WE MAINTAIN THE HIGHEST STANDARDS AT A&M TRAINING
allowing us to provide quality training courses which are industry recognised and accredited through a range of associated organisations.
WHY USE ACCREDITED PROVIDERS?
We recommend that whatever your training requirements you should always use an accredited training provider if you want to make sure the training is safe, legal and to the industry standard. Training accreditors aren't just another form of trade association we pay to be part of; they're an integral part of the training industry working closely with organisations like the government and the Health and Safety Executive.
They ensure training standards are consistent and professional, producing delegates who work to a high standard following best practice and the latest legislation; their accreditation is intended to guide employers and individuals towards making good training decisions.
Becoming accredited isn't just about filling out some forms and sticking a logo on our website either, our accreditors ensure we meet their standards and continue to do so in the long term through strictly enforced codes of conduct.
As a fully accredited training provider;
– We are subject to regular monitoring visits to ensure our quality standards stay consistent
– We follow training course syllabuses which have been approved by the relevant accrediting body
– Our team our experienced and fully qualified instructors and tutors to deliver our training
– All our training courses are delivered at appropriate premises; whether our own dedicated centre or an area of your business premises set aside specifically for the purpose
Further Information
Accreditation by recognised accrediting bodies in any industry is entirely voluntary and standards can vary a great deal as a result. Using an accredited training provider gives employers and employees the assurance they are working towards industry recognised standards and ones in line with the Health and Safety Commission's Code of Practice and Guidance
Browse this website to find full details of our training courses, along with feedback from previous students and clients and answers to many frequently asked questions.
To learn more or arrange booking to a course contact us at any time to speak to one of our training team.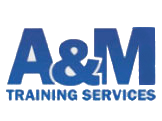 Looking To Book A Course?
Get In Touch With A&M Training Services!
We always commit to providing the very best in customer service – coupled with the highest standards of training on an ever-growing range of vehicles to a range of sectors in the UK and also overseas. Our customer care includes a personal service to provide exactly what the customer wants, when they want it. We offer a free "training needs" analysis if you need it and we are here at the end of the phone to advise and guide you through the minefield of business legislation.
Our promise is to provide a great price without ever compromising on the quality of training that you receive. Our many years of training experience ensures we take pride in looking after our long established clients.