Introducing Working Safely:
This module stresses the reality of human suffering behind workplace accident statistics and emphasises the importance of personal responsibility and eliminating the myth that accidents only happen to other people.
Defining Hazard & Risk:
Addressing the definitions of 'hazard' and 'risk' and putting them into everyday language that everyone can understand. This particular module emphasises that even the simple tasks, those which are carried out repeatedly can go wrong with serious consequences.
Identifying Common Hazards:
All the main issues are covered in this module; entrances and exits, work traffic, fire, chemicals, electricity, physical and verbal abuse, bullying, stress, noise and manual handling. Each area is backed by understandable and relatable examples in recognisable scenarios.
Improving Safety Performance:
This module deals with systems and processes, ensuring that any health and safety 'jargon' that is commonly used is explained in clear and easily understood terms. The session bridges the gap between management and the workforce, encouraging delegates to play an important part in processes they may feel are not their responsibility, but that of their manager or supervisor.
Protecting Our Environment:
The final module is a short but effective introduction to waste and pollution, leading to delegates looking at how organisations and individual team members can get involved in reducing their environmental impacts. Memorable and thought-provoking facts and figures help to drive the reality of the situation home.
Accredited through A&M Training Services.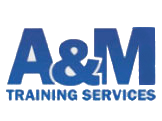 Looking To Book A Course?
Get In Touch With A&M Training Services!
We always commit to providing the very best in customer service – coupled with the highest standards of training on an ever-growing range of vehicles to a range of sectors in the UK and also overseas. Our customer care includes a personal service to provide exactly what the customer wants, when they want it. We offer a free "training needs" analysis if you need it and we are here at the end of the phone to advise and guide you through the minefield of business legislation.
Our promise is to provide a great price without ever compromising on the quality of training that you receive. Our many years of training experience ensures we take pride in looking after our long established clients.