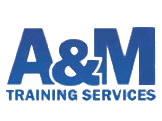 MANAGING FORKLIFT OPERATIONS
Fully accredited course for managers and supervisors who are responsible for overseeing workplace activities involving fork lift trucks.
Though supervisory staff are not required to be qualified forklift operators, they need the knowledge and confidence to be able to identify good and bad practice, in order to maintain a safe working environment.
Managing Forklift Operations outlines key legal requirements and the safety, practical and financial benefits of applying effective management and best practice, including improved productivity and profitability and reduced risk of accidents and
damage.
Managing Forklift Operations

Looking To Book A Course?
Get In Touch With A&M Training Services!
We always commit to providing the very best in customer service – coupled with the highest standards of training on an ever-growing range of vehicles to a range of sectors in the UK and also overseas. Our customer care includes a personal service to provide exactly what the customer wants, when they want it. We offer a free "training needs" analysis if you need it and we are here at the end of the phone to advise and guide you through the minefield of business legislation.
Our promise is to provide a great price without ever compromising on the quality of training that you receive. Our many years of training experience ensures we take pride in looking after our long established clients.